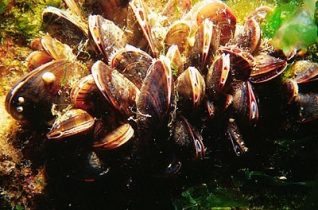 This is a cluster of mussels. They are growing on a pile leg of the West Pier. Very often you can't see the pile itself because it's covered in mussels.
Mussels are also known as bi-valves. They feed on plankton and small particles drifting in the current. They're sucking water through a white frill on the edge of the shell, and expelling the same water through a smooth valve – they literally siphon out nutrients from the water.
Very colourful, very striking patterns. When you see them on your plate in a restaurant you tend not to think of that!