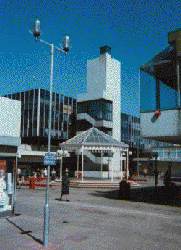 A scheme for creating a new shopping centre alongside Western Road was first conceived in the 1930s. The current scheme [this text was written in 1994] was given ministerial approval in 1963 and the first shop (Blackburns Menswear) opened in 1967.
The Churchill Square development covers over 15 acres. It extends from Western Road down to the sea-front. It cost £9 million to build, and consists of a shopping precinct, a residential block, a group of offices and three car-parks.
Some of the land needed for the square's development was already vacant having been cleared in 1938 and 1957-8. However, one early nineteenth century street of cobble-fronted buildings, Grenville Place, was demolished.