Did you know these people?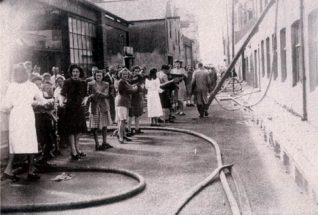 Photograph donated by Trevor Chepstow
Is this Debenhams Store in Brighton? Do you know?
This photograph was given to me by Gerald Spicer and shows the auxiliary fire brigade in action at Debenhams store during the Second World War.
The ladies shown in the photo are probably staff and have taken the task of rescuing bales of fabric from the store. It is possible that the store had been bombed and, because of all the water present through the store, it was safer to transfer the stock to a safer storage place.