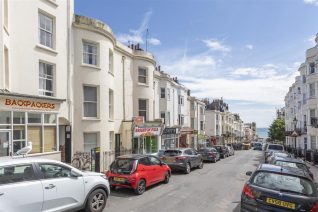 Does anyone remember Chaits Kosher Delicatessen in Waterloo Street, Hove?
Mr Chait was a lovely man. He used to phone me every Saturday evening in the sixties for my order for delivery on Sunday morning as I was getting ready to visit the Theatre Royal for my weekly visit.
An amazing new coffee
I had Box H booked regularly at the theatre and a charming lady used to bring us coffee and sandwiches in the interval. Does this still happen? Mr Chait took my rather long order and on one Saturday he said "Mrs Foley, we have this amazing new coffee in, Nescafe Gold Blend, do try it". I did and have loved it ever since.
Mr Chait made my weekend
He used to deliver beautiful cheeses, fresh seeded rolls, pickled cucumbers, kosher sausages and all my grocery requirements. I do miss Mr Chait – a visit to the supermarket with the stress of parking etc. is not quite the same. Whenever I visit the lovely Southern Belle in Waterloo Street I walk past where his shop was and remember him and how he made my weekend!
Remember your favourite shop? Did you have a shop you used to love visiting? Where was it? What did it sell?  If the building still exists we can photograph it for you.
You can email me at  jennifer.mybh@gmail.com