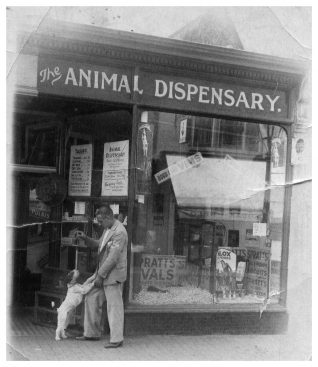 From the private collection of Tony Hill
Earliest memories
The earliest thing I remember is walking out of Brighton Station with Mum and meeting Dad in his car parked on the station forecourt. I would have been about two and a half years old. I know from them that Mum and I had been to Newcastle–on-Tyne staying with her parents while Dad, who was opening a pet shop, 'The Animal Dispensary' at 42 Dyke Road in Brighton, found us somewhere to live.
Three basic treatments
In those days anyone could call themselves an "Animal Practitioner" and treat sick animals. Most pet shops did this and provided basic care. Dad had three treatments for dogs and cats, worming powder, flea powder and Epsom salts I believe. He also doctored tomcats and put animals to sleep. Anything more complicated he referred to Mr Balfour-Jones, an eminent vet who lived off Davigdor Road, not far from the pet shop.
Previously a professional musician
Dad had previously been a professional guitarist with various British dance bands but decided this was too precarious a career for a family man. Anyone interested in this can find out more from Mike Thomas's website. You can also see a video of him playing, in Gaucho costume, with Don Sesta's Latin-American band on the British Pathe website .