Bread pudding and saving the 'divvy'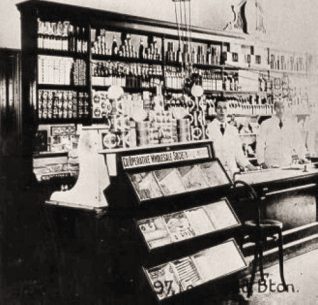 Royal Pavilion and Museums Brighton and Hove
Meat on hooks in the window
Having read some of the comments about shopping and prices years ago, I have been remembering shopping and the prices of items when I was a young girl. During the war I would go shopping with my Grandmother to Harper's the butchers in Islington Road. They used to have meat and sausages hung from hooks inside the window. There was thick sawdust on the floor and those huge wooden blocks they chopped the meat on. I do not think that those conditions would be allowed nowadays with all the rules and regulations about food hygiene; but we were none the worse for it.
Saving the 'divvy' for Christmas
We bought most of our shopping from the Co-Op store in London Road as you were given 'divvy' ie dividends which were a percentage of the amount you spent. All through the year the 'divvy coupons' were saved up for our Christmas; and they made a big difference to what we could buy. If I remember rightly, I think coal cost 30 shillings a ton in the late 1940s, no central heating then. Of course sweets are very important to children, and I remember that there used to be a married couple who had a sweet shop in Jubilee Street. I remember going there during the war, but of course sweets were rationed then.
A slice of bread pudding
Crawfords Bakery was up from the old market opposite the Level. At that time 1/2d (halfpence) of bread pudding slice was a real treat. I hate to think what was in it but it certainly tasted very good. I remember I did a morning paper round, for which I had to be up at 6.30am, at Bacon's the newsagent at the top of Preston Drove/Ditchling Road. I worked an hour and a quarter, six mornings a week for 4s 6d. a week. I also did an evening round delivering the Argus ) for 3s 6d. I often wonder how I managed all those newspapers as I was a skinny little girl in those days.
Do you remember?
When you were a child, what shops did your Mum take you to? What was your favourite treat? If you can share your memories with us, please leave a comment below.