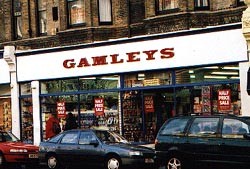 From a private collection
My favourite place is Gamleys toy shop and why I like it is because it's got loads and loads of toys. I've seen some toys there that I really like.
There's a lovely mummy lion and a little doggie, which my friend's got. He's a Dalmatian and my friend named hers Spotty. There's also a fishing game with magnets on the ends of strings and you have to pick up sea creatures and octopuses and stuff like that.
I got my Beanie babies there and they're really cute, especially my mummy leopard and her baby cub, Sneaky. I play with them a lot.
I don't get to go to Gamleys very often because my mum doesn't let me, but sometimes we go there after I've been to the dentist and I've been a very good girl or when we have to get somebody a birthday present or something like that.