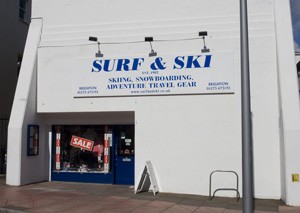 As may be expected, when trying to fit together a puzzle that is thirty years old, there are some gaps in my research and I would appreciate it if anyone can help with any further information.
My biggest mystery surrounds the shop that effectively arose from the ashes of Sounds Unlimited in about 1977 or 1978 and for a while was the biggest import store in Brighton. It sold clothes in the front and records in the back and was on the left hand side of North Street as one walked up towards the Clock Tower. I now realise it was called Connections (thanks to Brighton DJ Dave Packham for jogging my memory) but I'm not sure exactly where it was  (Yellow Pages don't have a listing for some reason – possibly it is listed under 'Clothes shops' rather than under 'Record Shops'?) although I know it was pretty much opposite where High and Mighty is today.
Can anyone shed any further light on this store and confirm the address?
I also distinctly recall a record shop on the premises of where Surf and Ski is now. It didn't last long – I think it was early to mid 80s.  I wonder if anyone else can remember it?