3-1908 opening of the golf course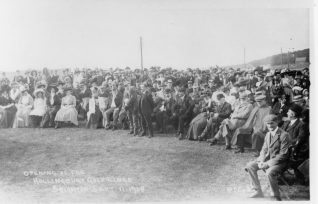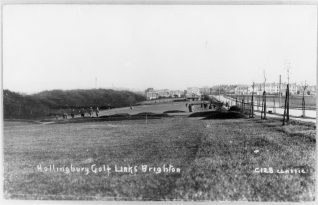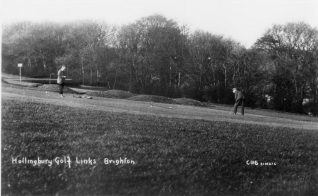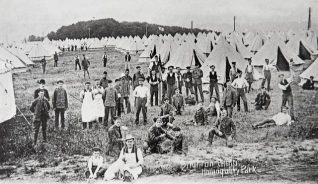 Controversy regarding the Hillfort
It was not long before there was renewed controversy when it became clear that a tee and green were being built inside the Hillfort in contravention of a covenant placed on the land! This sparked off a series of letters to the local press protests in Council and the Ratepayers Association held a protest meeting at a local school.  The meeting ended in a shambles of "great excitement and uproar" according to the Brighton Herald and their opinion was that the resolution to remove the tee & green was not carried. Work carried on unhindered and apace.
The formal opening
The Course & Golf Pavilion were completed in a remarkably short time ready for the opening 'drive in' by the Mayor, Alderman J.P. Slingsby-Roberts, at the formal opening on the 11th of October 1908.- he played the opening drive with "a handsome implement" made by the newly appointed professional (J H Torrance) before a large gathering. This was followed by an exhibition match between the local professional and the professional from Lewes Golf Club, F E Penfold.
The rural nature of the golf course can be gauged by reports in the Parks (Golf links) Sub Committee minute book (DB/B22/1) available at The Keep.
DB/B22/1 57/58 – Minuted that the shepherd in charge of the sheep which graze on the links had been of great assistance in keeping the course in good condition – paid a gratuity of 10 shillings by the Steward.
A report that the owner of the rabbit warren adjoining the links had complained that players and caddies are breaking down his wire fences searching for lost balls.
Military Camps were held at Hollingbury Park for a number of years before the First World War.  Thousands of troops were billeted under canvas in what was described in the press as 'White City by the sea!'