4-1909 Formation of Golf Club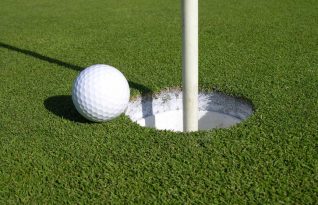 Formal competitive golf 
Regular golfers were keen to play formal competitive golf. A meeting of interested golfers (30 or so) met on September 10th 1909 at the Golf Pavilion and elected a steering committee to approach the Council for permission to form a club. In November 1909, in response to this petition of regular users, approval was given by the Council for the formation of the golf club. Hollingbury Park Golf Club, well for Gentlemen players anyway, had arrived.
Membership 5/- a year
Members were required to submit four scorecards for handicapping purposes.  The membership fee was 5/- a year. The first club medal was played on the 5th February 1910. The entry fee for this inaugural competition was 6d – The cash prize was 10  shillings and 6 pence,  the course professional must have cast envious glances at the prize as it was a week's basic wage for him. The first Captain was a W. Castle Lever. The President: Alderman E. Geere. JP. Mayor of Brighton. The Secretary: J. Lord Thompson. 
The first AGM
At the time of the first AGM in October 1910 there were 67 members. It was not always easy to become a member of the club the Minutes record that a certain Mr Clasby was refused membership as he had carried clubs for hire after the age of 16 and infringed his amateur status.
Formation of Ladies Section
It was agreed at the 1911 AGM that a  Ladies Section would be formed. However, by rule, they were required to 'allow gentlemen players to pass at all times on request being made' and could not play on Saturday afternoons or Bank Holidays! It was at the 1918 AGM that it was agreed to let Ladies vote at future meetings – I doubt it was in line with the Representation of the Peoples Act and only allowed enfranchising women over 30 who met minimum property qualification. It was not until 1938 that the restrictions on women playing between the hours of 12.30 and 3.00pm on weekends and Bank Holidays were lifted.
100 members of approved respectability
Early applications to join the Sussex County Golf Union were refused – Municipal Golf Clubs were rather looked down on; however after well made protests from the Club Secretary – 'as a properly organised Golf Club with over 100 members of approved respectability we seek affiliation with the Sussex County Golf Union', the club was accepted into membership at the end of 1919.