8th Coy Boys' Brigade, Brighton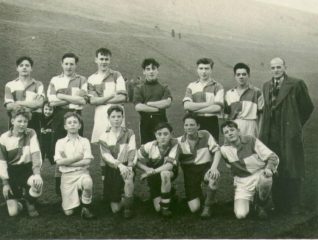 Photo from the private collection of James Type
Here is a photograph of the 8th Coy Boys' Brigade football team taken at Whitehawk football pitches in the late 1950s.
The lads' names from left to right back row: Michael Groves, Jim Type, Keith Salvage, Raymond Chatfield, Brian Constable, (Capt) Derek Collingham, our skipper Mr Collingham.
Front Row: Trevor Standing, Geoffrey Standing, Chris Barker, Roy Newland, Ron Pope, Colin Humphreys.
We lost to the London Boys' Brigade team 2 – 0!!