Developed by the mid 18th century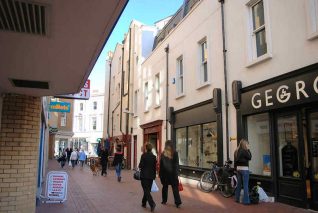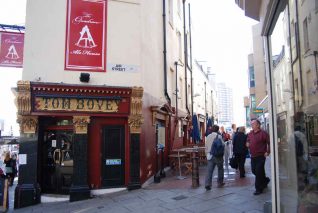 Please note that this text is an extract from a reference work written in 1990.  As a result, some of the content may not reflect recent research, changes and events.
b) AIR STREET: Leading from Queen Square to the southern end of Queen's Road is Air Street which, as Boar's Lane, was developed by the mid eighteenth century between North Street and Church Street. Queen's Road was laid out along most of' its length in 1845, but in 1849 the remaining length of Air Street was still noted as being intolerably filthy and lined with several slaughterhouses with dung accumulating in a large open cesspit in the centre; it was one of the worst slums in the town. The narrow street was improved in 1850, and now forms an attractive pedestrian shopping thoroughfare which was widened in 1985-7 when Queen Square House was erected.
Any numerical cross-references in the text above refer to resources in the Sources and Bibliography section of the Encyclopaedia of Brighton by Tim Carder.