Community spirit in the 1930s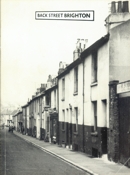 Eventually we moved to a house of our own in Albion Cottages, an L shaped alley with one end in Albion Hill and one in Albion Street. There was a row of houses on the eastern side of the alley, with a general yard at the northern end and Tamplins' Brewery stables at the southern end, the backyard walls of Albion Street on the western end. I lived there until I was ten, when our house was condemned we moved into Manor Farm in March 1936. The whole of Albion Cottages was not condemned at this time, only our house and the house next door. The remaining houses were refurbished and were not demolished until I think around 1960.
There was a community spirit, engendered of course by the fact of all being in the same boat . Certainly for us children it was obligatory that the elder children looked after the younger ones when we went to the beach, or to the Race Hill for the day, packed off with a bottle of made up lemonade and sandwiches. Unlike some, I cannot say that I look back on those days with any affection. The memories I have are of being damned cold in winter, suffering chilblained ears which bled, having rick­ets through my poor diet and certainly not being over protected by my parents.