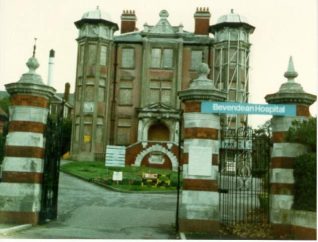 From a private collection
Paris aged 11 lives at Meadowview which is fairly new estate near the top of Bear Road. Paris says it is hard to walk home up the hill but easy when you are going down. She likes living at Meadowview where she has lots of friends and people have big gardens. She used to go to Bevendean School and it was easy to get to because there is a short cut down the steps.
Meadowview
There are lots of fields nearby, Paris can see lots of meadows out of her window which is why the estate is called Meadowview. On a warm day she can go and see the horses in the fields and feed them. Paris likes horses and would like to ride. The estate is built where there used to be a big hospital (see photo). the gates are still there and Paris sometimes goes to the Bevendean Community Centre which is just inside the gates. Paris thinks if you weren't well it would have been nice to look out of the window and see the meadows. "Over 100 years ago I would have walked all the way up the hill through fields, I like the houses that are there now in Bear Road and Coombe Road but I like fields as well" she says.
Hard work
Paris continues, "I would have worn a dress and a big hat and boots with lots of buttons to do them up. My mum would have stayed at home and cleaned the house, only men went to work. It would have been weird for me if I had to go and work in a factory when I was 11 because now I just go to school. If I was still at school I would have learnt English and cooking and sewing because women had to do sewing. I would have helped my mum with the cooking and cleaning it would have been hard work.
"We wouldn't have had a washing machine we would have had to scrub the washing in the sink, it would have been difficult to turn the handle on the mangle. Some people had washing machines but you had to turn the paddles by hand. It was very hard work living a hundred years ago. I prefer living now where you have got electric, but you still have to clean your house. It might have been cold at the top of the hill. My dress would have been very heavy if I got it wet in the rain or the snow. In summer it would have been really hot, you would be worn out wearing all those layers of clothes."