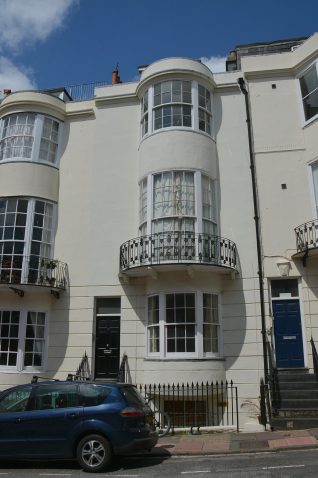 ©Tony Mould: images copyright protected
Local listing is different to statutory listing; it does not provide further legislative controls. and does not affect when planning permission is required.  However, when planning permission is required, the 'special interest' of a locally listed heritage asset will be taken into account. In 2013 the council asked for nominations for inclusion in the list; over five hundred submissions were considered. The Local List of Heritage Assets was adopted on 18th June 2015, it will be reviewed in 2020; other items in the current list can be seen here.
Mid 19th century townhouse
Number 3 Bedford Place is a small early-mid nineteenth century townhouse; it has three floors plus a  basement. The ground, first and second floors have curved bay windows; the ground floor windows being smaller than the first and second floors.
The first floor has a decorative cast iron balcony. The principal elevation is rendered with rusticated bands on the ground floor.
Black and white tiled steps with marble nosings and cast iron railings lead to the front door.
Next door, number 2 Bedford Place is of a very similiar design and is Grade II Listed.
The house is retained on the Local List because it is a good quality small-scale Regency townhouse which is aesthetically pleasing especially in association with number 2 Bedford Place.