Summer days at the Windmill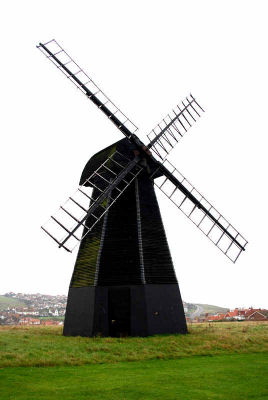 ©Tony Mould: all images copyright protected
Hours picking blackberries
I remember Rottingdean with affection: in the late 1940s and early 1950s we spent many a summer day by the windmill. With my mum and dad, we caught the number 4 bus from the bottom of Roedean Road, which was just down the hill from our house in Bennett Road.
Allotments behind the windmill
If my memory serves me correctly, some way behind the windmill there were allotments. Also somewhere nearby were blackberry bushes where we spent hours picking blackberries. Of course we had many a nasty little blackberry thorn sticking into our red and blue fingers.
Sandwiches and tea for lunch
We would have a break for lunch, which usually consisted of those lovely egg and tomato sandwiches. My dad always brought along a little stove for a really treasured cup of tea. After we had picked enough blackberries we would trundle off to the village and see the pond with the ducks and then off home on the bus tired out and happy. Sometimes we would get on the number 17 open top bus to Black Rock and then walk the short distance along Arundel Road to our home.
Do you have any Rottingdean memories to share? Please leave a comment below.
Carol singing
The blackberries were made into jam, and also some were used for blackberry and apple suet pudding which we had with custard. Years later I and a mate spent a few cold winter nights carol singing in Rottingdean where we always ended up with many a copper coin to spend on Christmas presents for the family. They were lovely, simple uncomplicated childhood days.