First housing development in Hove, 1820s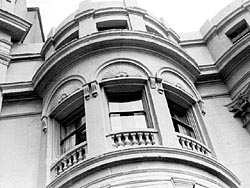 The sea and ammonites
By Bob Allen, Brighton enthusiast
The first housing development in Hove was Brunswick Square. Its Regency architecture, looking out to sea from around a central garden, typifies what makes Brighton and Hove different from any other coastal resort.
The ammonite decoration – a pun on designer Amon Wild's name – appeals to my sense of humour. I am fascinated by the variation of internal design behind the matching facades. Once sad, the square is fashionable again and during Open Weekend comes alive with visitors. No sea-front square or building is grander.
Maybe not Amon Wild?
By James Wright
I feel that Bob Allen is a little mistaken about Amon Henry Wild's association with Brunswick. The names of both C. A. Busby & Wilds were on the original plans for Brunswick. However, by the time Brunswick Terrace (the first buildings in Brunswick) was finished in 1826 the partnership had been dissolved (24th June, 1825). See: Bingham, Neil: C.A.Busby, The Regency Architect of Brighton and Hove.