Residents for thirty years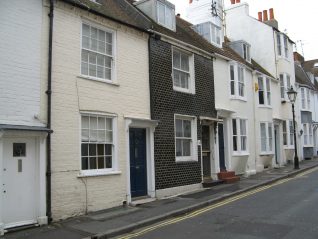 Some of my husband's ancestors lived in this street for at least thirty years. The 1841 census shows John Page, a watchmaker living in this street with his wife Sarah and 2 children Harriet & John. Sadly it does not say what number. The 1851 census shows him at number 14 [the black one] with his wife, son, daughter & her husband & child.
In 1853 Their son John was living at number 13 [the cream one] according to his marriage certificate.By 1861 John Page senior had died & his wife Sarah had moved. John junior died in 1860 and his wife Elizabeth & children were living at number 15 [the white one with the step].