Smoking herrings in the 1920s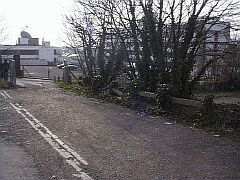 From a private collection
When we lived in Carlton Street as schoolboys, when dad was herring-catching, we used to have to get up four or five o'clock in the morning, school time, go down the beach and get half a prickel of herrings, which would be about a hundred big herrings.
We'd come home and we'd put them in a tub of brine – a waterproof tub – soak them, and go to school where you'd got herring scales on your hands, not washed properly and you got a donk off the headmaster for that, coming dirty.
And then you go home dinnertimes and you'd get these herrings and stick them on a stick, you might put thirty on a stick, and then you'd put them in herring dees which was – we used to use a dog-kennel, cleaned out when the herring season come, scrub it clean, and we used to use that – and smoke these herrings and make bloaters of them. And we used to have to do that when we came home at teatime from school.
Carlton Street used to be where Carlton Hill Primary School now stands.