The bombing on September 14th 1940: Part I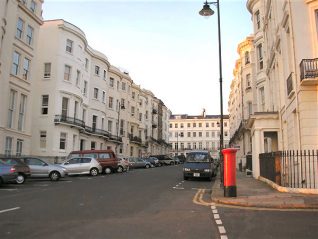 Introducing myself
Hello, my name's Les, Les Roberts, and I want to tell you my true story of the bombing of Chesham Place on Saturday September 14th 1940.  In fact I'm very lucky to be able to tell you the story, because that day my family and I had a very near miss, courtesy of Mr Hitler and the German Luftwaffe! But first I would like to tell you a little about myself, my family, and hard times in the 1930s.
Early Days
I was born in Warwick Street in Kemp Town on the 6th September 1920.  I had 2 elder sisters, Eileen and Peggy and an elder brother Fred.  I went to St John the Baptist school on the corner of Bristol Road and Upper Bedford Street, the Headmaster was Mr O'Hara.  21 Warwick Street was the perfect place to live, as my grandfather ran his own business "Roberts Coal & Removals" from a building just across the road from our house.  My father worked there as well, so life for the Roberts family in the early 1920's was good, however this was to change, there were difficult times ahead.  My grandfather had run the business for many years using a horse and cart; our horses were stabled in Somerset Street just adjacent to Eastern Road.
Growth of motor transport
Opposite the stables, on the other side of Eastern Road, was Kemp Town Railway Station.  We had 2 horses, which were almost part of the family.  My grandfather ensured the horses were well cared for, they were the most important asset our family had, the business could not run without them!  The horse and cart may have been adequate at the turn of the century, however by the late 1920's motor transport was beginning to take over.  Ours was a small family business, the early 1930's were a difficult time of high unemployment and uncertainty; hard for any business to keep it's head above water.

Times of Change
As 10-years old I was not aware of business difficulties, however my idyllic world changed and 21 Warwick Street was no longer our home! We moved to various places in the Kemp town area over the next few years.  Rented accommodation was the norm in those days for most working class families, and ours was no different.
You can read Part II of this story here