The bombing on September 14th 1940: Part III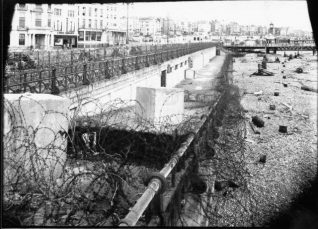 You can read earlier instalments here: Part I  Part II
Throughout the summer of 1940 the Battle of Britain was fought in the skies over southern England.  It was certainly noticeable over Brighton as the battle for air supremacy raged.  After weeks of trying to destroy our airfields, Hitler turned his attention on London, the blitz started.  I could hear the drone of the German bombers at night over Brighton as they made their way to either London or Portsmouth.
Threat of invasion
The serious threat of invasion was also upon us, it was a worrying time!  Winston Churchill had an inkling of the invasion threat to Brighton and in early July he inspected the defences.  The 3rd Division, commanded by General Montgomery, were stationed at Steyning.  Churchill first visited Steyning before driving to Brighton.  After inspecting the Grenadier Guards manning a machine gun post at the entrance to the pier, he dined at the Royal Albion Hotel.  His concerns about invasion at Brighton were well founded, just 80 miles across the English Channel Colonel-General Halder was planning to land 4 Divisions at Brighton.  Later the invasion plan was amended and the final plan "Sea Lion" was to land the whole German 9th Army between Worthing and Brighton.
Danger and Problems
Although we didn't know it at the time, by early September 1940 the Battle of Britain had been won, the blitz could not break the resolve of Londoners, and the threat of invasion was waning.  The Germans knew that from September weather in the English Channel was unpredictable, and invasion at that time would be fraught with danger!  However the danger was far from over, as indiscriminate bombs were being dropped on the town.  Personally for me there was another problem.  I had not completed my apprenticeship, but work in the garage was really scarce, due to petrol rationing.  Probably the garage could not afford to keep me on!