Originally one of five open arable fields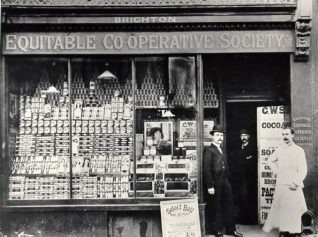 Please note that this text is an extract from a reference work written in 1990.  As a result, some of the content may not reflect recent research, changes and events.

The North Laine was one of five open, arable fields in Brighton farmed by tenant husbandmen (see "Downs (Laines)"), and covered the area from Church Street northwards to New England Road and Viaduct Road, and from Buckingham Road and the railway eastwards to Ditchling Road. It was mainly developed in small plots as an area of low-cost terraced housing and Brighton's 'industrial heartland', principally in the 1820s and again in the 1840s with the railway boom, but for a number of years in the 1960s and early '70s the area was under the threat of wholesale demolition and redevelopment; indeed, the northern part of the North Laine , to the west of London Road , has been almost completely obliterated.
In March 1973 however, Brighton Council rejected the 'Wilson report' which, although recommending a general improvement policy for the North Laine area to the south of Trafalgar Street, also called for an elevated 'spine road' from Preston Circus through the area to a car-park in Church Street . With a new awareness for traditional townscapes, the council followed up by designating a North Laine conservation area in 1977, covering most of the area between Queen's Road , North Road , Gloucester Place, St George's Place and Trafalgar Street, plus Gardner Street and Bond Street ; it is this district which is now known as the North Laine although, as mentioned above, it originally covered a much larger area. (The conservation area was extended in 1989 to include the 1870s houses of North Place.) With the removal of planning blight, the North Laine has now become a desirable residential and commercial district connecting the London Road and North Street areas, a fascinating area with many specialist shops and small industrial premises. The resident population of the area is over 1,500.
Any numerical cross-references in the text above refer to resources in the Sources and Bibliography section of the Encyclopaedia of Brighton by Tim Carder.