Memories of Ditchling Rise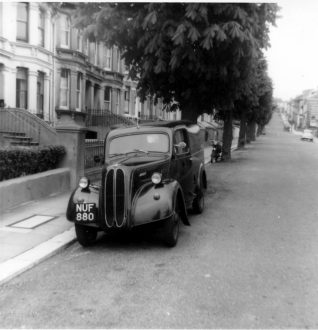 Early memories
I was born in October 1942 and bought up at 81 Ditchling Rise. My first memory was being pushed under a table during an air raid and being given a Mickey Mouse gas mask to play with. The Germans were bombing Brighton Station and the Viaduct and I have a lasting memory of the noise from the anti-aircraft gun placement at the eastern end of the viaduct.
A great place to live
It was a great place to live after the war, close to London Road, the Duke of York's cinema and all amenities.
At the rear of the house there was an embankment where my friends and I played for hours building hideaways with sheets of corrugated iron. The trains travelled to and from Brighton Station via London Road, Falmer, Lewes, Glynde and beyond, though I never went further than Glynde on the train as that's all I could afford with my 2/6d pocket money. I would mostly be found with a 1d platform ticket (in those days you had to have a ticket to be on the platform), watching the steam and electric trains and taking train numbers. I didn't know why kids took train numbers but we did.
Growing up on Ditchling Rise
There were plenty of kids to play with in the street. I remember playing cricket against the garden wall of the first building in Gerard Street opposite our house; the stumps were drawn on the wall with chalk, the game progressed with a tennis ball and a bat that one of the lads came up with. We played marbles in the gutter and we didn't catch anything nasty. My favourite game however, was cowboys and Indians with a silver plastic cap gun and a five pointed sheriffs star badge, we had great fun.
Getting around
It was an event in those days to see a car or any vehicle for that matter on the streets. As I got older, my Dad built me a go-cart with a wooden brake on one rear wheel to ride down the hill towards Beaconsfield Road. He also made me a bike out of odd parts he bought or found, I thought it was wonderful and it really broadened my horizons. I would ride to school (Fawcett in Pelham Street), go to Preston Park in the evenings and as far afield as Burgess Hill and fourteen miles to Haywards Heath at the weekend.
I remember being taken out for a walk on a Saturday or Sunday evening, down London Road, past St Peter's Church to the Palace Pier, or maybe to the Black Lion in Patcham. We would always catch a number 46 trolleybus back from the pier to Preston Circus, or a number 5 from the Black Lion, maybe getting some fish and chips from Bardsley's or Rolf's in New England Road when we got back if Dad had enough money.
Life at home
Mum didn't work outside the home, she cooked, cleaned and looked after Dad, me and my sister. I remember the cold meat, mashed potato and peas on a Monday (leftovers from Sunday lunch). This was also washing day, using a boiler to boil up the bed sheets on the back step, using blue bag to make them look whiter.
The photo shows my Ford Prefect van parked outside our house circa 1963 (when there were very few vehicles). I left Ditchling Rise in 1966 when I married and moved to York Road, Hove. These are my memories of Ditchling Rise.