The beginnings of Hollingdean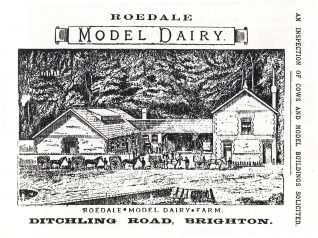 Reproduced with permission from " A History of Hollingdean"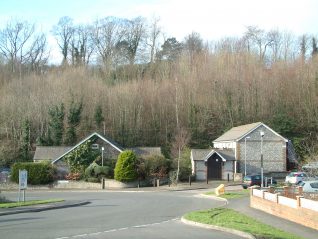 As early as 1831, Dog Kennel Road, later Hollingdean Road (so called because it was the site of Brighton Harriers Kennel for the Union Hunt) was mapped as linking Ditchling Road down to the Lewes Road. A map of 1867 shows that development was gradually moving uphill along Ditchling Road, beyond Viaduct Road, with some housing as far up as Round Hill on land surrounding the Tower Mill.
Open Farmland
The land to the north of Dog Kennel Road was open downland, with the Harrington Farm, and its buildings, lying on the site of what is now Hertford Infant school in Hertford Road. By 1885 another farm is shown described as Lower Roedean, on a site now recognisable as the end of Stanmer Villas. A later map of 1899 shows two further groups of farm buildings to the north of Lower Roedean, in the area now occupied by Golf Drive and Roedale allotments, and Hollingbury Park.
The Roedales
Renamed as Lower Roedale, there is also a 'Roedale' and an Upper Roedale farm. At the time these farms do not seem to have been listed in directories – prior to the 1880's Hollingdean had few official or postal addresses deemed then to be of note apart from  'the Parish Dustyard, Brighton Harriers Kennel and the Jews Burying Ground'. In a Brighton directory for 1892, listed after Hollingdean Road just a  path is described as 'the road to Harrington farm and Roedale'. On several old maps the area from Lower Roedale to Harrington farm is labelled as 'Cowley's Bottom', local reference to the fact that a Charles Cowley was dairy farming at Harrington Farm and land on the Lewes Road from the 1850's to the 1890's.
Saved from dereliction
The advertisement from an 1891 trade directory shows the flint buildings in Stanmer Villas in use as a dairy, with the familiar copse covering the steep bank behind as now. A local resident recalls as a child in the 1920s seeing horses being shoed there and these two buildings are now all that remains of the original farm. They survived dereliction to be rebuilt to their original style in the 1990's into Housing Association flats and now provide homes and gardens of great character.