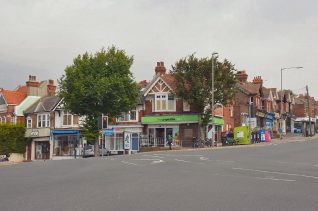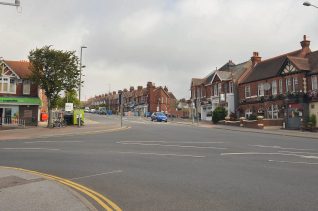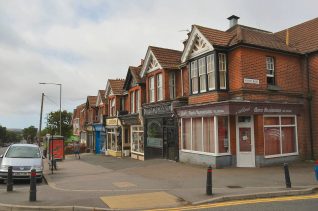 My Saturday job
When I was a schoolboy in the 1940s I used to work on Saturdays and school holidays for Flynns the dry cleaner, and I enjoyed making the rounds of Hollingbury with my delivery cycle which had a small wheel at the front surmounted in a frame by a large wicker basket. When loaded the vicious beast could toss the contents on the ground in front of one by a careless manoeuvre. In the middle of the road , opposite the shop, stood one of the log cabin shelters where the trams used to pause before continuing west or south.
A weekly chocolate treat
At the Stanmer Hotel, kept by Mr. Dawbarn, my adopted aunt Dolly worked as barmaid for many years and her great favourite was his son, Denzil. My cousin Eric opened the radio and TV store 'Preston Radio' close to Eastwood's the Garden Centre. On the corner of Hythe Road stood a sweet shop from which another aunt bought me each week, a bar of Cadbury's milk chocolate. On the opposite side of Ditchling Road was a green grocer whose name I think was Sinden.
A village atmosphere
So many memories and so difficult to bring it all back. The name Five Ways was not known to me then; it was to Hollingbury that I delivered. The atmosphere was like a village with such friendly people and small shops flourished offering plenty of choice to their customers. I think that the Co-op had a store on the north-west corner but it is a long time since I visited to see what remains of this community.
Do you remember?
Do you remember any of these shops? Maybe your memories of Fiveways are of a later time. If you can share any memories with us, please leave a comment below.