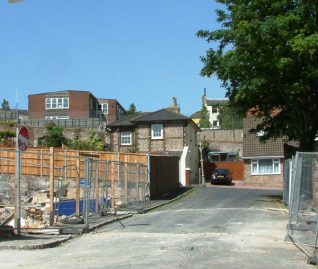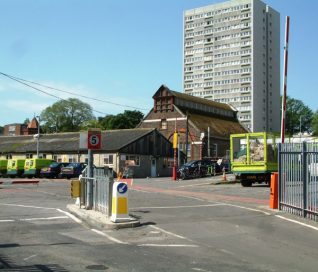 "In the 1940's my dad was in charge of the gates, and weighbridges for every vehicle coming in, at one end of Hollingdean Depot and we lived on the site. We moved from Whitehawk when I was 8 years old and lived there until I was 15.
Our House
The whole Depot site was enclosed by walls, much of it made of flint. Our house was 134 Ditchling Road – a grand Victorian property it has long since been demolished and replaced, by a smaller modern bungalow on the same site in what is now called Hollingdean Lane. It was probably built for whoever was in charge of that end of the Corporation Yard. Next door, in an old flint cottage which still remains, was Mr. Rogers who was in charge of the other gate and weighbridge. He hated me and my brothers because we nicked his apples and annoyed his dog Skipper!
Pulling out the best comics!
There was no nightwatchman, if anyone wanted anything they just saw Mr. Rogers or my dad. From the Ditchling Road entrance there was a huge wooden gate with a smaller door to which we had the key. On the left was the abattoir with a railway line directly from the main line into the Corporation Yard, crossing over Hollingdean Lane to bring the animal cargo right in. Further up the Yard was the "salvage" area for paper and rags. We kids used to pull out all the best comics!
The Mighty Furnace
The Dust Destructor furnace was in daily use, although we weren't so aware of the smoke as the chimney was so high, over 200 feet. My dad used to say that at the top the rim was so wide you could drive a horse and cart round it! Everything went into the furnace and the clinker that was left was raked out and used – the high wall opposite the Yard on Upper Hollingdean Road was known as the "clinker wall" as it was built with it.
Treasures amongst the rubbish
Of course we weren't supposed to go into the furnace building (which is still there) but there was too much of interest, like the "Dustmen's Bunce" – pickings that were separated out before the rubbish went into the furnace. We found a few treasures amongst the waste, including an old pistol and big metal discs with raised pins to play on an old cylinder music box.
Prisoners of War
During the War all the households in Brighton put their waste food scraps out in a lidded bucket which was collected daily in carts to be brought to the Yard for pig food. It was emptied out and had to be turned over, this work was done by German prisoners of war. Not surprisingly rats were plentiful and catching them was a favourite pastime for us, especially at night when the yard was empty.
The Tunnel in the chalk
When I was aged about 12 my friend's dad, a Mr. Dadswell, was Caretaker of the Jewish Cemetery off Ditchling Road and I used to climb over my back garden wall to make a short cut through there to school. A group of us boys used to get over into land between the Cemetery and what is now Downs Infants School, where a flint wall marked the mouth of a manmade tunnel into the chalk. We went down it just with candles, as it was pitch black – it zig zagged down hill and seemed very deep eventually coming out into a cavern-like space with a wide opening looking out on the main line railway bank near the Hollingdean Road bridge. I have never found out to this day what the tunnel was for, although I've had plenty of theories and I presume it must be still there!"