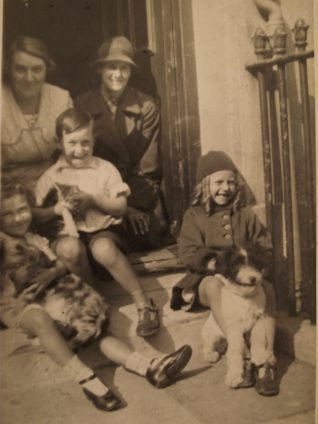 From the private collection of Marion Selwood
Born in Eastern Road
My mum Phyllis Barber was born in Eastern Road, Kemptown and lived there until after the bomb damage inflicted in September 1940. She was born in rooms at 57 Eastern Road which belonged to the Thwaites family. Grandad Thwaites used to look after mum while her parents were working and it was some years before she realised that she was not really a member of their family. Grandad Thwaites wore a gold earring, as did many older fishermen, which was apparently to pay for their funeral if they should happen to die far from home.
Shellfish cooked in the scullery
One of the Thwaites sons, Tom, lived next door at 59 with his wife Liz (mum remembers that 59 had a pair of bay windows unlike most of the rest of the street which all had steps to go down to the basements). Aunt Liz had a son Billy who was nine months younger than Phyllis, so they grew up together while their mums went everywhere together. At some point mum and her parents Minnie and Bill moved across the street to no.60, which had "NOEL" over the front door. It was a tiny house with a scullery at the back with steps down to a cellar. Bill Barber was a fisherman and used to bring home shellfish which were cooked in the scullery. These were sold round the streets from a flat barrow and mum enjoyed going with him on these rounds.
Naughty to skip in the street
All Souls church played quite a large part in mum's early life. She and her mother would attend twice on Sundays and then there was Sunday school as well. Father Stiff and his sister Mary were in charge at this time. Minnie suffered from poor health in those days and was actually baptised at home by the Bishop of Chichester who processed down the road to the house. Mum was reprimanded for being naughty enough to skip in the street on a Sunday. With the Bishop coming! Mum also attended All Souls Infants and Juniors schools (the local chant being 'all soles and no heels').
The local shops
Mum remembers some of the local shops – there was Mrs Stafford's grocery, a fish shop, Mr and Mrs Robb owned another. Several local pubs did brisk business – the Star in the East and on the opposite corner the Eastern Star as well as the Hand in Hand in Bedford Street. Children would play in the street and mum recalls them setting up a cardboard box 'shop' and kind passers-by giving them coppers for their wares. On horse racing days the children would call out to passing race-goers "here we are sir, chuck it over sir" in the hope that lucky punters would be generous.