A Bevendean housing estate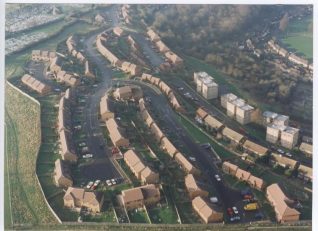 Submitted by BEP Engineers Ltd with permission from Philip Lane Photography
This is a seven-and-a-half hectare housing estate set on a hill, with views of rolling green fields in tranquil and almost rural Bevendean Valley.
An elegant mix of dwellings
An elegant mix of two-storey houses and three-storey flats totalling 148 dwelling units, the housing estate on the North-Eastern side of Brighton is provided with a community centre and is served with two collector roads and an access road. Nestled right across the Bevendean and Moulescomb housing estates, the site has been masterplanned to deal with a steep slope from a height of approximately 82m above ordinance datum (AOD) in the north to approximately 130m AOD in the south. The slope increases from about 5 degrees in the south to about 20 degrees down slope to the north.
Great landscaping and road design
Relying mainly on years of engineering expertise and great team work among the Engineers, Architect, Contractor and Developers, what used to be an irregular-steep-sloping piece of land has become a home in the country, with great landscaping and road design. Developed in 1995 by a consortium of housing associations, the land was acquired from the then Brighton Borough at a relatively low price on the condition that the properties were to be let/sold to people nominated from the housing register of the Borough at affordable prices.
Engineer: Bedford Eccles (BEP Engineers Ltd)
Architect: Deacon & Richardson (drp Architects)
Contractor: Lovell Partnerships
Developers: James Butcher Housing Association
Sanctuary Housing Association
Downland Housing Group