The Foundry: formerly Pedestrian Arms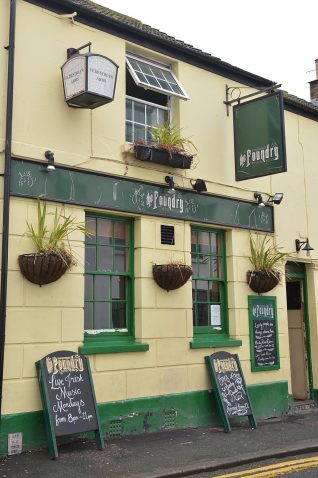 A pub in a time warp
During the late 1960's and up to 1974 I was a regular at the Pedestrians Arms; thankfully it was a pub in a time warp, and a real slice of Brighton history. The pub is in Foundry Street and is now, unsurprisingly, called The Foundry. The business had been in the same family for over a hundred years as the then landlord Henry Hazelgrove had taken up the license in the 1950s. His wife Eadie had taken it up from her father in 1928, and he had been landlord since the 1860s. This is my memory from thirty years ago so dates may need tweaking after research.
Helping out the elderly landlord
As Henry was 82 when he gave up the pub, there was a great deal of customer participation in helping him in the last year or so. Last leavers after 'Time Gentlemen Please' were given a broom and/or wet cloths to clean up the bar. As you left after the chores he always thrust very large dark rum into your hand to down in one. Hefty late leavers were sent to the cellar to lug up crates of ale. These were invariably crates of bottled pints of Guinness, as the pub was opposite the GPO it was generally peopled by postmen, especially at lunchtime, and they all seemed to drink bottled Guinness.
A proper pub – a boozer
One lunch break I went in for a pint and as the cricket was on, Henry said to get my self a drink, as I was pulling my Watneys Mild, some strangers came in and thought I was the barman. They were followed by others, and some postmen arrived. I never sat down for my entire lunch break.  Henry always stated his pub was not for entertainment; no music, no juke box, no 'bandits' – it was a boozer. The one exception was a large, well large for the 1960s, television which was only on for 'Test Match Special' as Henry was a cricket fan. The pub had their own angling club – The Pedestrians Arms Deep Sea Anglers or PADSAC, and the saloon bar had a wonderful old marine chart showing the fishing grounds off the Brighton shore. A proper pub!