Two storey cottages built in 1820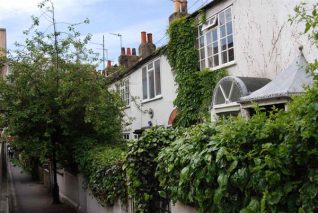 Hidden behind their small gardens, these tiny two storey cottages in Fredrick Gardens were built in the 1820s. Although close to the railway station they were not built for, or occupied by, railway workers who tended to live between Trafalgar Street/Gloucester Road and New England Road, as well as in the Hanover area.
Today the cottages are dominated by the Post Office sorting office built in 1926 on the site of the old Regent Iron Foundry at the end of Fredrick Gardens on North Road. The Foundry's proximity probably explains why in 1851 there were seven black or white smiths living in Fredrick Gardens.
Whitesmiths, worked in white metal such as tin, while blacksmiths worked in iron. The rest of the occupants were composed largely of labourers, laundresses, charwomen, shoemakers and dressmakers