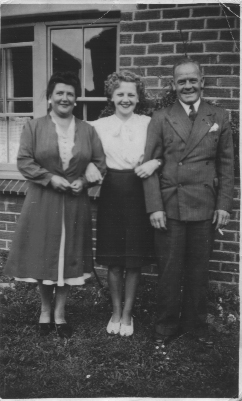 From the private collection of Nancy Kersey nee Pelling
My parents Mr & Mrs Pelling moved into 91 Godwin Rd in 1935. I was 4yrs old at the time. I attended the Knoll Infants' School then onto Portland Junior's which was quite a walk from home. Sometimes we'd take the No.14 bus from the bottom of Martin Road. One day walking home along Portland Rd we were machine gunned, some of us went into the phone box by Ingram Crescent, while others sheltered in a lady's hallway.
Snacks in the air raid shelters
The war was still on when I went to the Knoll Senior School in Old Shoreham Road. We carried our gas mask and tin box with things to eat whilst in the air raid shelters. The cloakroom window glass had been removed and replaced with sandbags.
Not many sweets
We used to hide pieces of glass to scrap carrots which we brought in the post office and general store which was called 'Dirty Dicks'. The other shop was called the green hut which we would get lemonade powder and end up with yellow fingers from dipping our fingers! We did not get many sweets due to the rationing. Another favourite was currants from Miss Booth's cookery room. Out of school, not many people had cars in those days so it was safe for us to play in the streets. When the war finished we had dancing and parties in the streets.
Travelling tradesmen
I also remember traders who travelled around.  There was the muffin man, Albert the ice cream man, the winkle man on Sunday mornings, Clarkie the rag and bone man who would give you a goldfish in return for woollies! Then there was Mr Jinks the milkman, Mr Curtis who had a large basket on his bike full of sewing things. Oh and not to forget the onion man with strings of onions hanging from his handlebars, and of course the fish man who would call if you put a plate on view in your window.
Dancing on Monday night
Mrs Slarks of Wilfred Road, through the twitten, sold toffee apples. And then there was Old Pop Cobble at the scout hut. On Monday nights there was dancing at St Richard's hall to Doug Boniface band & Ron Sayce singing the Woody Woodpecker. Miss Kent had a dance class at St Richard's hall; I went there and did a number of shows at the Rally Hall.
I married Wally Kersey of 29 Godwin Rd on February 18th 1950, we have two daughters Brenda and Sharon, Wally and still live in Hangleton.