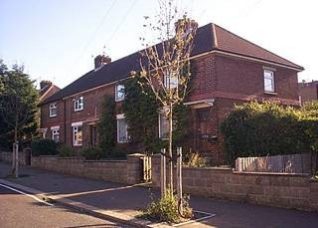 I only signed up to the site a couple of days ago, so imagine my amazement when one of the first 'additions' I came across was for Godwin Road, which is the road I grew up in.I moved there in about 1955 when I was 9, but lived further up the hill at no. 83, near the junction with Martin Road. My parents continued to live there until the mid 70s when my dad died and my mum moved to a flat in Portland Road.
So many memories
I have so many memories of Godwin Road – our neighbours were the Perrins on one side and the Wisdens on the other. I remember walking to Portland Road school every day, including there and back again at lunchtime. I remember Jim the co-op milkman with his pull along milkfloat . I remember the somewhat primitive hot water system with the copper in the bathroom that had to be lit. This was eventually replaced by a back boiler in the living room, but you still had to light the fire to get hot water.
Sweltering in the summer
The house was sweltering in the summer- but we made do with baths and wash day just once a week! The bathroom was downstairs next door to the kitchen, contravening all today's building regulations, I imagine.
My dad was well known
My surname in those days was Wade and my dad was quite well known in the area – he had a dog (Winnie the Wonder dog) who did tricks (allegedly) and 'performed' for school parties and OAP clubs. Dad also did Dickensian character impersonations. I knew someone at the bottom end of the road, but can't remember the number. Her name was Linda and we eventually went to the girls' grammar school together.
When I have time I'll put some photos on the site, which may be of interest to your correspondent from Canada. I was also interested to read about St Helens Church as I got married there in 1969.