Hangleton residents' memories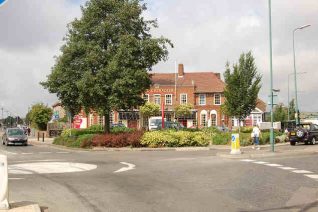 These reminiscences are from residents who are involved with the Hangleton and Knoll Community Development Project and were facilitated by Ruth Melia.
Nancy Kersey
I moved to Godwin Road in 1935, when I was only 4 years,  I lived at number ninety one, which was then known as being on the old Godwin Road.  This was because it was there before the part of Godwin Road that joins up with Stapley Road was built.  My maiden name was Nancy Pelling and I still live in Hangleton.  I have been married to Wally Kersey since 1950.
I remember the Knoll Infants' School in Bellingham Crescent, and Miss Lelliot who was the Headmistress there at the time. I then went onto Portland Road Juniors and I remember Miss Calnam. I wonder if anyone else remembers this teacher?
I attended the Knoll Senior Girls' School on Old Shoreham Road which shared the area with the Boys Senior School.  The school has now gone and has been replaced by the Knoll Industrial Estate.
In wartime I was 8 years old and remember playing with friends helping to fill sandbags for the soldiers who were responsible for the gun emplacements.  This happened in West Hove and is where the Sainsbury's is now based.  Does anyone else remember this?
Freda Mainwaring
My first memories of Brighton were of the Florentine Hotel where my husband and I stayed when we moved here from Shropshire.  The hotel was owned by my uncle. Unfortunately it was demolished and replaced by flats.  Does anyone remember this hotel?
I remember working in Smith's in Hollingbury.  This was a watch factory that made the parts for barometers and watches.  Of course the building has long gone and now Brantano is on the site.
Lovinia Golding
I taught at several schools around Brighton.  I started at All Souls off Eastern Road and taught there for eleven years from 1949 to 1958.  Unfortunately the school was demolished in the road widening scheme.  In 1959 I went to work at St Mary's and stayed there until 1967 when I moved to St Andrew's in Hove until 1979.  I did train as a junior school teacher and taught needlework, but I filled in doing nursery teaching for a time.
Roy Taylor
I went to the Knoll Infants' School and then on to Portland Road Juniors.  When I left junior school I moved to the Knoll Senior School between 1937-1946.  I remember having to spend a lot of time in the local bomb shelters in my school years.  As  kids we played along the Cattle arch and the Boundary hedge between the Grenadier and the Dyke Railway.  We  would tunnel out a hole and make pretend camps.  I also remember guns positioned on top of the Gala Bingo Club in Portland Road.
When I was a teenager I used to go to the Milk Bar in Portslade, where I would get a milkshake and listen to the jukebox before going onto the pictures. The picture houses were the Rothbury or the Pavilion; the price of the ticket depended where you sat.  On the way home I would pop into the railway coach at Portslade, to pick up a hot pie.