Houses that grow in the trees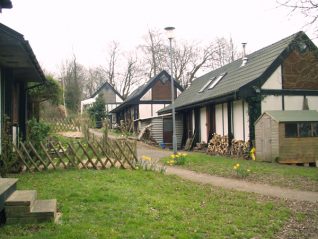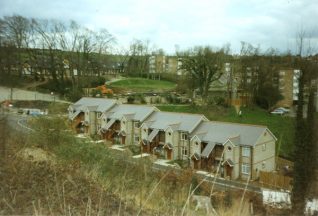 From the private collection of Mr. D. Catherall
Golf Drive was created during the 1980's on land which had been part of Lower Roedale farm, later Roedale Nurseries, and the site of Hollingbury Park old Golf Club house and pavilion. With its views of the Burstead Woods and the colourful allotments of Roedale Valley, it feels a long way from the bustle of Brighton for the houses which grew up amongst the trees.
Building their own homes
The first self build housing project on the site, "Seaview", started as a training project for young people who gained building skills whilst creating their own one level single person homes. Architect-designed to capture as much heat as possible and with good underfloor and other insulation, the houses were built to have a 25 year life span with the land on a leasehold arrangement. In the early years the scheme suffered from a high turnover of young tenants and some houses fell into disrepair. Eventually the houses were squatted by a group who carried out much needed repairs to make the houses habitable once again. They then came to an agreement with the council to take over the tenancies and carry out maintenance and improvements including wood burning stoves and the creation of upper storey bedrooms, so that the houses could grow with their now family-sized occupants!
Homes for people and wildlife
The Dryad group was formed, including some of the original tenants and continues, now managed by a Housing Association.
Over the years the communal land around the houses has become a haven for wildlife encouraged by the diversity of planting in individual gardens and the largely pedestrian traffic. New tenant Ian has long wanted to live in such a special place – "most of the time the trees provide a screen from any traffic noise and so all you can hear is the birds".