Houses grow in the trees - part two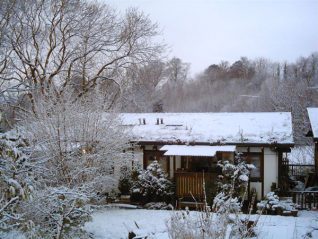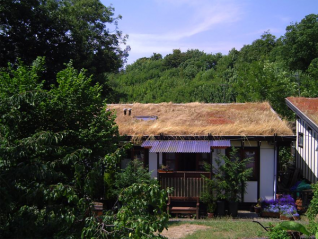 After the Dryad development was finished there was still some space left to build, on what had been the Hollingbury Park Golf club putting green, adjacent to the mid 19th century property, Golf House. In 1988 a group of six people, who had come together through the Brighton Two Piers Co-op, formed their own association and approached the councilto negotiate a long lease of the land. A government grant from the Housing Corporation provided ¾ of the funding with the other ¼ being the contribution of their labour by the future tenants.
Planning the site
The design for The Diggers was put together by an architect who specialized in self-build type buildings.
Nine households were planned including some split level 2-3 bed units and one storey single person houses. When the site was taken on, the old Golf pavilion was still there and was intended to be kept as communal space but unfortunately after a fire it had to be demolished. Before the building could start in 1992, the future tenants had to learn some basic building skills and materials needed to be chosen for the houses.
Building eco friendly homes
Environmentally friendly design
Timber frames from renewable sourced pine were used, with some hardwood uprights – wood stains used were organic where possible and roofs were turfed with grass. This medium also reduced the visual impact of the build on the existing environment. Insulation was a big consideration as the units needed to retain heat. Recycled newspaper was used and has proved very effective as the houses only cool down on very harsh winter nights.
View from an original tenant
David, one of the original tenants remembers the first visit to look at the site and how difficult it was then to see what it could look like, but now "when you get to the top of Golf Drive it's not particularly built up, it's half homes and half edge of the Downs really – I have a small wooden verandah and when the trees come out I am completely sheltered, we're just lucky to be in this position."