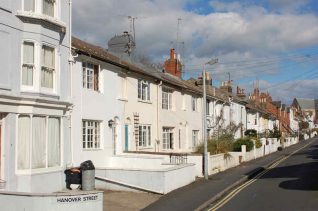 Your editor for Hanover is Jack Latimer. If you've got any queries about this area, or can add any information, photos or memories, please send My Brighton and Hove a message via the Comments form at the bottom of this page. You can tell us about last century, last decade, last week, or what you see changing around you today. And if you're interested in the area and could help with writing, photos, research or interviews that would be much appreciated.
I've lived here for fifteen years. I got interested in local history through working on the original My Brighton exhibit, but I've never focused on my own neighbourhood. So this is a voyage of discovery for me.
Boundaries
On this website, we use ward boundaries as a starting-point. That means Hanover includes Albion Hill and Carlton Hill, even though they have a distinct feel and history. Hanover ward even includes some streets on the other side of Elm Grove. There's a great map that Hanovernet have produced that shows the overall area very clearly.
The area today
What's in Hanover? Good pubs, famously. Plus narrow streets, cream and beige and pastel houses, less good pubs, a steep hill, problems with parking, and a sense of community. An estate agent will tell you it's a desirable area. It has a reputation as a muesli belt, inhabited by social workers and teachers.
The Juicy Guide claims the neighbourhood owes its cosy identity to the size of the houses. They're too small to divide into flats, so this is a hillside of owner-occupiers. Hanover used to attract first-time buyers before prices escalated. Young families stayed for a while, then reluctantly left when they needed a bigger place.
The heights of Hanover housing
In recent years, the number of corner-shops has dwindled. We've lost a general store run by the sociable Bob and Di; a delicatessen; a green-grocer; a shop that sold second-hand tools one morning a week. But we still have a pianola shop and a place that sells everything you need for playing bowls.
Schools have become housing. Dairy garages have become housing. The huge old Phoenix brewery suffered an arson attack and was replaced by housing. The pubs have less crimson-flowered wallpaper and more stripped wood; less old men in corners and more Greek salad.
The Victorian terraces don't house a working-class community any more, but Hanover still has a community feel. There is an annual street festival and a beer festival. A newsletter comes through the door from the Community Association. We have our own bartering currency called Hans. The Green party candidate did well after doggedly cycling up and down that hill on his campaign bicycle, day after day.
A book called 'Hilly Laine to Hanover' from Brighton Books is the best gateway to Hanover's past (nearly sold out, so hurry). With thanks to the authors, below are some Hanover highlights.
Notable places (existing)
Hanover Crescent
Percy and Wagner Alms Houses
Church of the Annunciation
Hanover Lofts (once Finsbury Road school)
Notable places (in the past)
Belgrave Street Congregational Chapel
Bentham Road Mission
Brighton Home for Penitent Females, Finsbury Road
Cobden Road Public Baths
Chate's farm
Ebenezer Baptist Chapel, Richmond Street
Islingword Road Mission
Phoenix Brewery, Southover Street
Notable people
Thanks to Hanover Crescent for housing the following reasonably famous people…
Sir Rowland Hill introduced uniform penny postage and the Penny Black stamp. He lived in Hanover Terrace in 1840. He was also the chairman of the London and Brighton Railway Company.
Horace Smith, a writer and poet, also lived in Hanover Crescent. He occupied number 10, from 1826-1840. He held parties for the literati and knew Dickens and Thackeray. The next resident of the house was a physician, Samuel Hood, the father of the first Viscount British Admiral.
Places in this area
Albion Street
Belgrave Street Congregational Chapel
Brighton General Hospital
Carlton Hill
Carlton Row
Carlton Street
Chates Farm, Albion Hill (no longer exists)
Church of the Annunciation
Claremont Row (no longer exists)
Coleman Street
Elm Grove
Elm Grove Primary School
Finsbury Road
Geese Have Gone Over the Water pub, Southover Street
Grand Parade
Great Globe, Carlton Hill (no longer exists)
Greys pub, Southover Street
Greek Orthodox Church
Hanover Community Centre
Hanover Street
Hanover Terrace
Hanover Terrace School
Islingword Street
Lynton Street
Newark Place
Percy and Wagner Alms Houses
Phoenix Community Centre
Phoenix Community Estate
Richmond Street
Southover Street
St James Passage, Hanover Street
St Wilfrid's, Brighton (no longer a church)
Sussex Street
Toronto Terrace
Windmill Street