High Street: Stanley House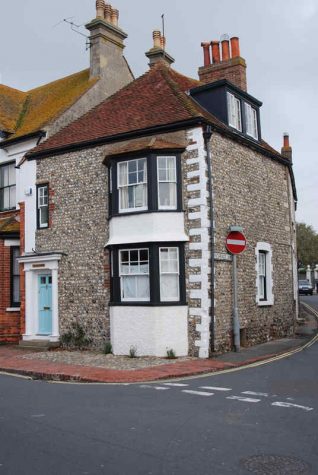 Please note that this text is an extract from a reference work written in 1990.  As a result, some of the content may not reflect recent research, changes and events.
This, the main village street connecting the gap with the Green, retains many old buildings to the north of the crossroads, but has been radically redeveloped to the south. The south-eastern side near the gap was known as the 'Quarter-Deck' because of its marine outlook, but the flats of St Margarets, designed by Richard Jones, were erected in 1938 by the Saltdean Estate Company, and Highcliff Court was added in 1967; St Margarets was damaged by a bomb on 18 December 1942. Opposite stands the White Horse, formerly an important coaching inn and meeting place for the villagers, and also a centre for cock-fighting and bull-baiting in the eighteenth and nineteenth centuries. The 300-year-old inn was known as the King of Prussia for a time, but was demolished in 1934 and replaced by the present large hotel.
The first modern intrusion was the north-eastern corner of the crossroads. The car-park opposite lies on the site of a terrace of red-brick houses and the Royal Oak public house, all demolished in the 1930s. No.17 Marine Drive nearby is known as the Poet's House and was the home of poet Sir William Watson (1858-1935).
t) STANLEY HOUSE, no.116: An eighteenth-century house at the corner of Vicarage Lane, faced in knapped flint with pebble-dashed angular bays.
Any numerical cross-references in the text above refer to resources in the Sources and Bibliography section of the Encyclopaedia of Brighton by Tim Carder.