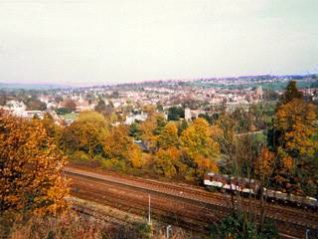 Built on the top of a railway cutting
Highcroft Villas (of Dyke Road Drive) runs along the top of a railway cutting offering good views of Preston Park and Preston Village. This view is from the Villas looking north across the allotments above the London to Brighton line.
Built for the upper middle class
The imposing semi-detatched, red brick houses which line the street were built in the 1880s for upper middle class residents. An 1885 street directory lists a reverend gentleman and military officers amongst inhabitants.
The former Preston Windmill
At the top of Highcroft Villas are Lambourne's Old Mill Works which were named after the former Preston Windmill that stood on the site. This was originally erected at Belle View (where Regency Square is now), but – following complaints from residents – it was towed over land by 36 oxen on 28 March 1797 to stand on its new site until it was demolished in 1881.