Back to Work! (Pullars Instruments Hollingbury Ind Estate)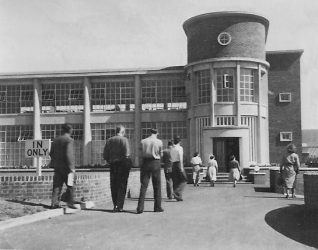 From the collection of Peter Groves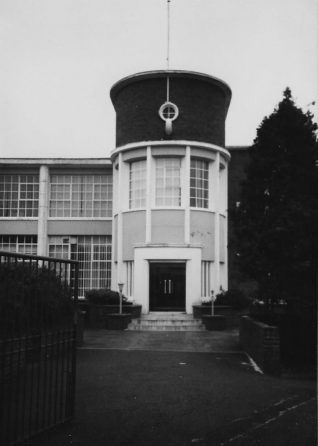 From the collection of Peter Groves
On my Walk Back in Time page, Dave asked (02/02/2018) if I had a photo of any of the workers at Pullars Instruments c. 1966/67.  I think this one is much earlier judging by the length of dresses.  Also, comparing the photo to the one from 1985, the lack of vegetation suggests it may have been taken soon  after the building was constructed for Pullars Instruments in 1951.  The design of the building had quite an impressive frontage, more than just functional.
Pullars/Smith & Sons
Anyone of a similar age to me, will remember when the very few clocks our parents owned, had to be wound each morning.  Or, if you were "posh" perhaps your parents had an electric clock; the down side of this was that most houses didn't have enough spare power points to leave a clock plugged in 24/7.  Many of the household clocks of the 1950's and 60's that I remember, had the name Smith & Sons on the clock face.  Smith & Sons were founded in London in 1871, by the beginning of the 20th century they had grown considerably and also manufactured other similar instruments like odometers ("mileometer") and speedometers.  Pullars Electric was an old Brighton firm, who in 1937 were acquired by Smith & Sons.  The Hollingbury division of Pullars/Smith & Sons manufactured cooker clocks.
Don't Despair Dave!
It's a shame that the employees are returning to work with their backs to the camera; it won't be possible to identify anyone, and that's the only photo I have showing Pullars employees.  However don't despair Dave, searching the net I found this great slideshow by John McFarlane, showing photos of Brighton places/people from 1960, including many of Pullars employees!  Watch the full slide show, it seems that they are referred to as Pullars in the summer, but by the end of 1960 they are referred to as Smiths; enjoy!