Building Over Carden Park c. 1967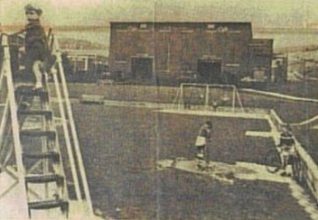 From the private collection of Peter Groves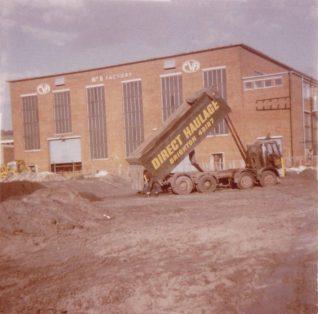 From the private collection of Gil Percy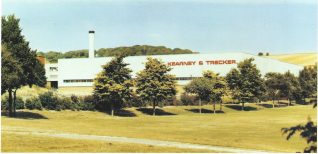 From the private collection of Peter Groves
In 1966 Brighton Machine Tool Manufacturer CVA/Kearney & Trecker wanted to expand their facilities at Hollingbury Industrial Estate, however, Carden Park occupied the land on which they wished to build.  Discussions were held with Brighton Council in the summer of 1966.  Although the proposal was supported by many of the Planning Committee, the Parks Committee were strongly opposed to the release of the 5-acre park.  Brighton Council asked the government to intervene, and although wishing to help, were not able to ascertain procedures had to be followed to comply with the law.
Trump card
The Company soon played its trump card by producing a letter from East Kilbride Development Corporation.  The letter offered the Brighton company cheap industrial development and housing land in Scotland.  Brighton Council had many reasons for concern, apart from the £1 million the company put into the local economy and 1700 jobs.  Also, the existing factory buildings were leased from Brighton Council at a rent of £42,000 per year, plus £24,000 per year rates.  The Council had borrowed the money to build the factories and was repaying this at 2.5% above the base rate.  If the Company moved to East Kilbride would anyone else want the huge factories?  This was the persuading factor, the Parks Committee relented and the proposal was approved.  The building of No 8 Assembly and Warehouse factory was underway.
Before, during and after
These photos show the site before, during and after construction; the new factory opened in 1969.  The Company also had further plans to build offices right out to the road, with a prestigious glass walk-way over Carden Avenue. However, this was not to be as the UK Machine Tool Industry went into decline in the 1970s due to competition from the Far East.  By the mid-1980s the industrial estate shifted away from manufacturing and towards retail.  Firstly the huge Asda store to the north, and then the equally large MFI furniture store in front of the 1969 assembly factory were built.  By the early 1990s, the Company consolidated to the 1958 premises and the assembly factory was modified for the Evening Argus, who built a new print room within the factory.  Currently, the factory is empty and hidden behind the Next, Argos and M&S buildings which face Carden Avenue.  Of course, Carden Park still exists, but much reduced in size, from its pre-1966 area!