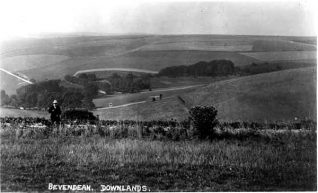 From the private collection of Sam Carroll
"This photo of the valley was taken from the Racecourse when it was purely sheep grazing land. Recently I walked with my family up Jacobs Ladder to find the same spot and we took more photos.
My parents moved to Bevendean in the mid 50's with my sister and brother in tow. I think they came to be near my Aunt and Uncle, who had completed one of the City's first self builds in Plymouth Avenue. Another brother turned up in 1967 and I hastily followed in 1968.
We lived in Hornby Road and I have extremely fond memories of playing in the surrounding fields and streets, making camps and playing tracking with our gangs of friends. My Dad sold the house in 1980 and I did not return to Bevendean until I became involved in my own self-build in 1997.
As a co-operative we have built ten houses between ten families, timber framed with turf roofs, and have created a community environment (Hogs Edge off Norwich Drive)."