A street party in Islingword Street and Southampton Street in 1938.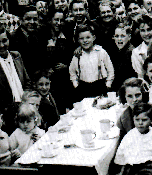 Photo from 'Hard Work and No Consideration', published by QueenSpark Books
Collecting coppers
The feelings among several people were such, that owing to so many children living in the two streets, they formed a committee. The outcome of a meeting was that they decided to contact every house-holder in the two streets and collect a few coppers. This they did with every parent giving what they could afford open heartedly. The amount collected was laid out on paper. Again the committee got to work, working out the various foods, drinks and sweets required. The necessary foods were bought, with the different men and women (parents of all the children living in those two streets) setting to work making various fancy cakes, jellies, custard…
Ringing the bells
 The arranged day arrived. What activity, plus excitement. Along came handbarrow loads of trestles, table tops, chairs (talk about happiness among the poor) with all the mothers and fathers working together in harmony, out came the various cakes, jellies, custards, sweets, in fact the lot, from all the various households who had arranged to do their bit. When everything had been set in place, hand bells were rung, letting all the children know that the time had arrived for them to take their places at the tables. My wife and I were very proud to see our two young sons among the other children, enjoying their company. What a time we all had and enjoyed.