The 1934 trunk murder scene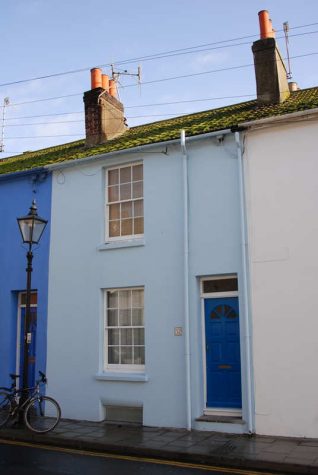 Please note that this text is an extract from a reference work written in 1990.  As a result, some of the content may not reflect recent research, changes and events.
The first 'trunk murder' at Brighton occurred in 1831 when John Holloway murdered his wife near Edward Street and carried her remains in a trunk to a wood at Lovers Walk to bury her. He was hung in public at Lewes, and she was reburied at PrestonChurch.
The more famous Brighton Trunk Murders followed in quick succession in 1934 and led to the town being nicknamed 'the queen of slaughtering places'! On 17 June 1934 a woman's torso was found in a trunk at Brighton Station's left-luggage office by a railman, but although the legs were found at King's Cross the next day the head and arms were never recovered and the identities of the victim, a young pregnant woman, and her murderer were never discovered.
Four weeks later, on 15 July 1934, police discovered the body of 41-year-old prostitute Violet Saunders in a trunk at 52 Kemp Street, killed by a blow to the head. Toni Mancini, a man of many aliases and the dead woman's 'pimp', was soon arrested, but was acquitted after being brilliantly defended by Norman Birkett. Mancini claimed that he had found Saunders dead on his bed at 44 Park Crescent and, panicking, wheeled her in a basket to Kemp Street. However, in a newspaper article in 1976 Mancini confessed to the murder.
Any numerical cross-references in the text above refer to resources in the Sources and Bibliography section of the Encyclopaedia of Brighton by Tim Carder.
The following resource(s) is quoted as a general source for the information above: 3,19,124,288