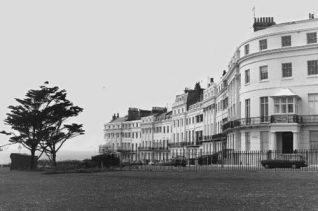 Image from www.kte.org.uk
The gardens were landscaped in 1828 at about the time that the Kemp Town Estate was being constructed, and each freeholder paid a sum fixed by the Garden Management Committee towards their upkeep.
During the last century the gardens suffered major setbacks. Most of the garden was requisitioned by the military for the duration of World War II. This included the gardens in front of Chichester and Arundel Terrace, and the slopes going down to the sea. The north garden housed water tanks as a precaution against fire. All the cast iron railings were taken away to be melted down for the war effort (although it is debatable whether they were used), and replaced by a picket fence which remained until the 1960s when the railings were reinstated by residential subscription.
During the 1940/50s when the houses were divided into flats, payment of Garden Rate became voluntary and residents were given a key upon payment of a yearly sum – again fixed by the Committee. Locks were changed every spring to ensure that residents paid their Garden Rate.
The Great Storm of 1987 did untold damage. Over 30 huge Monterrey Cypress were toppled and every other tree was ripped to pieces. Consequently there was little shelter from the wind and the garden started to decline rapidly. In the mid l990s a screen of mainly evergreens was planted in the south west corner, and which now combines the dual benefits of shielding the garden from the south west wind, and the sight and noise of traffic from the surrounding roads.
In the 1980s/1990s costs of maintenance were going up, and fewer residents were paying the Garden Rate. Consequently, the Committee decided to investigate the earlier Thomas Kemp system of each Freeholder having to pay a fixed yearly sum, which would in turn be shared by all the lessees in the house.
At the same time, the freehold of the Enclosures which was owned by the Dunne Family, was offered to the Freeholders of the houses in Sussex Square/Lewes Crescent, Chichester and Arundel Terraces. The purchase price was a very nominal sum and the legal fees would be borne by the Committee funds.
Much research was carried out and Freeholders were notified of the change of payment. In 1995 the Freehold was purchased and the new payment system was put into effect. The current annual garden rate is £300.
A Board of Management for Kemp Town Enclosures Limited was voted in and an AGM is held every year, usually in October, and the Freeholders are invited to be present.