An ordinary working class place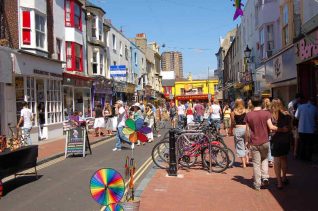 Kensington Gardens was, in my days, mainly composed of ordinary, working class shops.  There was a butcher opposite us, a greengrocer and pet shop on the opposite corners with Gloucester Road. There was a newsagent, an ice cream parlour (del Marco's, who later moved to London Road opposite St Peter's Church), a sewing machine repair shop, and shops selling clothes, shoes, second hand furniture from house clearances, and a rival funeral directors down at the southern end of the street. Two undertakers in one street – perhaps an indication of relatively high mortality in a poor working class area?
A real sense of community
The 'Kensington' next door to us was an unpretentious working man's pub. The newsagent shop, run by Gus in my time, was earlier run by a Mrs Potter. My older brother, born in 1940, remembers brightly coloured Christmas annuals in the window always being a great attraction. In the later stages of the war when flying bombs came over, she would pop across to shelter with my parents and brother in the Morrison shelter we had in the basement.  I can recall all the names mentioned by Carol Hardy in her contribution. It may be my rose coloured glasses but I do think there was a real sense of community in the street in those days. Certainly my mother seemed to know practically everyone there!
The history of the street?
Does anyone know the history of the street? Has it always been pedestrianised? I know the North Laine area, an expression unknown to us when I lived there, was developed in the 19th century along the lines of the mediaeval field patterns. Perhaps Kensington Gardens lies on the site of an old market garden, used to help feed the growing Regency town south of North Street?
Still an exiled Brightonian
Kensington Gardens is to my mind a classic and fascinating example of urban social and economic change, as the town around it and indeed the country as a whole developed – a microcosm of urban change, in fact. Someone should write a book about it! I left Brighton in 1966 to go to university at Liverpool, and have lived in North West England ever since, but, although I now regard myself as an adopted north westerner, at heart I remain a Brightonian and a "Kensington Gardener"!