Somewhere for a weekend retreat?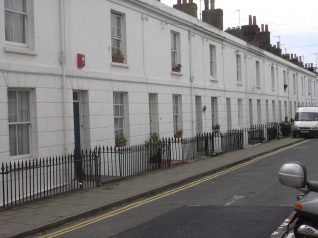 Houses first began to appear in Kensington Place in the 1820's. A glance at J.Pigot.Smith's 1826 map of Brighton shows a number of houses on the west side of the street. These are what the Brighton Encyclopaedia describes as 'small terraced houses and cottages'. The west side has a mixture of these small houses and taller three storeyed buildings, typical of the mid-Victorian period. The east side was constructed mainly in the 1830's and consists of a terrace, decorated with Ionic pilasters and now mostly grade 11 listed.
The residents of the street have generally been skilled artisans. The 1851 census refers to drapers, beer shop keepers, tailors, bootmakers, printsellers, cabinet makers, laundresses, general servants whilst the 1883 census makes reference to the Hearts of Oak beer house at no. 17 and a lodging house at no. 8. The street has always had its share of teachers with the 1900 census mentioning a teacher of music at no. 31 and a day school at no.34.
The link with culture and education at no. 34 was to last into the 20th Century for this was the home of the famous West End literary agent, Peggy Ramsey, who had a weekend home in the street from the 1960's. Peggy was to be made famous in the 1987 Alan Bennett-scripted film 'Prick Up Your Ears', about the life and death of the playwright Joe Orton. It was Peggy who discovered the talent of Joe Orton and then helped him in his career before finally identifying his battered body in 1967.
Weekends away
Peggy would spend many a weekend in Kensington Place, leaving London at 4pm on Fridays to travel down by train. She did not involve herself in the literary scene in the town (not liking one of the town's leading lights of the time-Laurence Olivier) but instead busied herself around the streets of the North Laine.
She must have enjoyed the bric-a-brac shops of the area, (they still give a particular charm to the area) for her house was reputedly filled with what Joe Orton described as clutter. In his diary entry for 29th July, 1967, he says "We went to Peggy's house……'her little place'. It was a nice old house in a back street. Built mid-nineteenth century. Peggy had it filled with bric-a brac. All of it interesting but really there was too much….She took me downstairs and showed me the garden…I liked the garden. Cluttered gardens are fun. Cluttered houses I'm not fond of." Two weeks later Joe Orton was to die.
Behind Kensington Place there is a little lane, Trafalgar Lane, where Peggy had bought a small cottage (which she called her hut) which she let her clients use. David Hare write most of 'Licking Hitler' here as well as 'A Map Of The World'. Having no telephone and being so close to London was ideal for writers.
Notable residents
Other notable residents of the street include William Moon, who published books for the blind and was Master of a Blind School in Church St. Moon lived for a short time at no 44 Kensington Place.
Kensington Place continues today to be one of Brighton's most attractive residential streets. It has been chosen as the set for TV dramas (in 1980 the street was used as the set for a TV serial ' A Little Silver Trumpet') and it now has a number of houses(on the eastern side ) that have been given grade II listed status by the Department for Culture, Media and Sport.
References
Census (1851), (1881).
Pigot Smith, J. (1826) Map Brighton History Centre.
Cresswell, D. Peggy's Little Place.
Chambers, C. Peggy: The Life of Margaret Ramsey.
Trade Directories, (1883), (1901), Brighton History Centre.