Changes in the 50s and 60s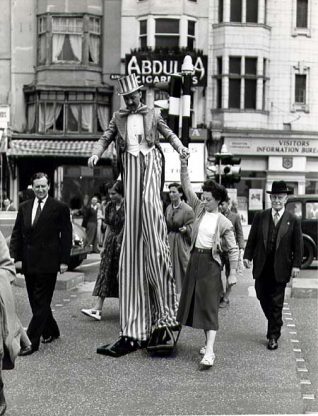 Photo from the private collection of Trevor Chepstow
Crossing the bottom of Kings Road
This photograph shows Archie Craig and his wife (Jeannie Craig) crossing Kings Road at the bottom of West Street. Both were appearing in Tom Arnold's 1953 "Ice Circus" at the Sports Stadium ice rink in West Street, Brighton.
Both were popular acts at the rink with Jeannie appearing as a contortionist and Archie as the stilt-walking clown, both combined various other routines in this very popular summer show.
Alan Weeks, publicity manager of the Sports Stadium
The gentleman to the left of Archie Craig is Alan Weeks who at the time was the publicity manager at the Sports Stadium and later went on to be a well-known sports commentator with the BBC. Alan was the voice behind many of the ice shows produced at the rink and regularly commentated at the "Brighton Tigers" ice hockey matches. When the rink closed in 1965 he went to work for the BBC fulltime and covered virtually anything to do with the sport of ice skating world-wide.
The other gentleman to the right in the suit and hat is believed to be the Mayor of Brighton
Demolished to make way for the Brigton Centre
The buildings in the background were demolished in the mid sixties to make way for the new Brighton Centre and what was to be a new ice rink at the bottom of West Street/Kings Road, combined with a new cinema complex. Unfortunately the ice rink turned out to be a failure and it was combined to add another cinema to the complex.
The Visitors Information Bureau in the photo was relocated to the rotund building on the esplanade at the bottom of West street and is currently a snack bar.