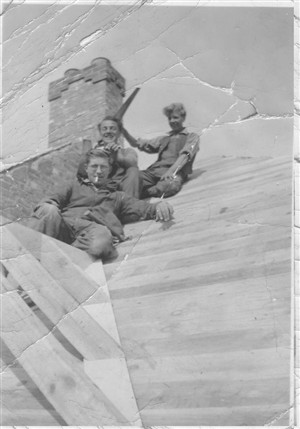 From the private collection of Georgie Hole
Semi-detached house for £550
The wages for most of the workforce were 1s 1d per hour. Mr Ferguson's chauffeur earned £4 per week. There was even a messenger boy in a suit with silver badges and a pill box hat. Although the wages were considered by some to be good for the times, families still struggled to pay the mortgage of £3. 2s. 2d per month, plus yearly rates of £10. 4s. 0d, on a semi-detached house costing £550, and make ends meet. The initial deposit/down payment on the purchase of the house was £25. 0s 0d, which must have been a nightmare for a young couple just starting out in life, to find.
Impression of tartan?
Water costs were included in the rates, and came to 9s 4d a year. The carpenters (chippies) were allowed to take home any bit of scrap wood under 6" in length, for firewood, at the end of the working week. This probably resulted in frantic sawing activity just before they went home.T here were at least six different designs of houses and bungalows, and a rumour persists to this day that the different coloured roofs were to simulate an impression of tartan.
All electric estate
Dr. Rosario bought 1 Mackie Avenue, and as there was no Catholic church nearer than Surrenden Road, his house was used by the local Catholics as the venue for their services. He was also one of the first to have gas connected – being an "all electric" estate meant that it was many years before gas was laid on for everybody. By 1935, 3,000 people were settled on the estate.