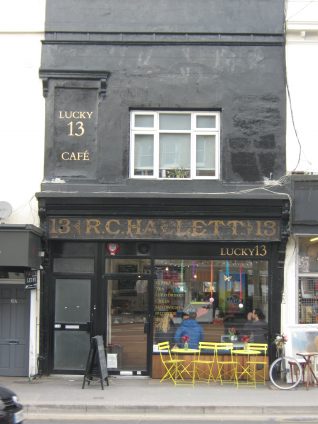 A rare original shop front
Regular contributor Paul Clarkson sent us the photograph here of an interesting shop front in Lewes Road. He wanted to know if it was possible to find out about the history of the business. I contacted our online local historian Andy Grant who suggested that, in view of its date, it might be an idea to apply for a preservation order for the shop's signage. Apparently it is a rare case of surviving original 19th century retail architecture. Andy also provided the following information.
Development in the 1850s
As Brighton's urban sprawl spread northwards, the open fields to either side of Lewes Road were turned over for development. The buildings along the section pictured were commenced towards the latter half of the 1850s. Initially number 13 was residentially occupied, firstly by Mary Ann Englefield, and then from 1862 by an elderly widow named Frances Deavin.  In 1873 the property was converted to a shop by a boot-maker named Charles Falck.
A fruit store in the 1970s
By 1882, another Boot & Shoemaker by the name of Richard Cruyes Hallett had taken over the shop – this is the name featured on the signage. Hallett remained in occupation until 1906, and went on to become the Superintendent of the Victoria Public Baths after giving up his trade as a boot-maker. He died at the end of 1926. but the shop continued as a Boot-makers until the end of the 1950s, after which it became a Fruiterers. During the 1970s it was known as the Lewes Road Fruit Store.