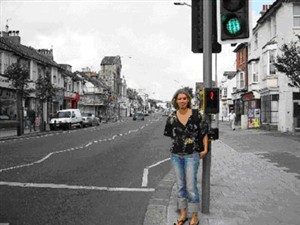 Photo by Sally Ann Clarke
Living on Lewes Road
I've got a really love/hate relationship with the Lewes Road area. I've lived sort of around Upper Lewes Road [and] now I live directly off the Lewes Road. Seeing how its changed over the years, I used to think, it's a dump, I don't like it here, I need to get away, but it sort of grows on you.  Over the last couple of years [they have] actually … put in quite a bit of effort, to make it a bit more trendy. You've got coffee shops actually springing up on the Lewes Road and you see chairs that people can sit out side, not that I would really do that but just the thought of it.
Losing its rough edge
And there seems to be a lot more young families who have moved around the area as well. It's loosing, it's really, really rough edge basically. It just seems a bit more open than it used to maybe, a couple of years ago. I mean even a little Turkish shop opened there the other day, I was really quite surprised to see that, amongst the big Sainsbury's and the usual Co-op and Spars. So that's quite nice. And it's really handy to get to, there are loads of buses that go around there because I used to study, I suppose it's a real student area, so it's easy to get to University. But it's also only, like, a ten minute walk into the North Laine.
I'm not sure I could move to Hove!
I've always lived in the Lewes Road area so I haven't really ventured out and the thought of moving to a place like Hove scares me. It's just a different feeling isn't it.  I work in Hove now and I just keep thinking, no, moving to Hove, I'm not sure if I could really do that. It's just compared to Brighton it all feels a bit stiff. I like being close to town, and more in the midst of things … especially when you get to the Portslade area, that's when it gets a bit dull I think.
Christiane Niemeyer interviewed by Sally Ann Clarke 11th April 2006.